Heliatek's CEO was recently interviewed within the KFW Story: "On virtually any surface". This interview was published on June 30. and is shared with the curtosy of KFW. The original article can be read: https://www.kfw.de/stories/heliatek-2.html
Heliatek is a spin-off from a cooperation between the TU Dresden and the University of Ulm. How did the founders come up with the idea for Heliatek?
In the 1990s, both the TU Dresden and the University of Ulm were very active in basic research on how organic molecules interact with light and electricity. The big dream was to find efficient and scalable ways to perform the two fundamental opto-electronic processes with organic materials. First, to emit light in all colors when exposed to electricity. And second: to do just the opposite, generating electricity from (sun)light.
Why organic materials in particular?
Organic materials have enormous advantages in terms of sustainability and possible applications. They do not use any of the scarce and often toxic raw materials that are widely used in today's inorganic LED and photovoltaic industries, and they open up new applications by enabling very thin, lightweight and even flexible solutions. The "spark" was the realization that this new class of materials could fundamentally change the way humanity uses electricity and light. Two spin-off companies were founded: Novaled and Heliatek. Novaled focused on organic light-emitting materials (OLEDs) - was sold very successfully to Samsung in 2013, and since then has been growing continuously on a very profitable basis in Dresden. Its OLED materials are now used in a wide range of (smartphone) displays and televisions. Heliatek focused on organic solar power-generating materials. Of the original founders, four still work at or with Heliatek.
How would you describe the core of Heliatek's business model?
Heliatek is a solar module manufacturer in a B2B model. Large energy companies like E.ON and ENGIE want to offer their customers a full portfolio of green solutions, and Heliatek's solar films are part of that. In parallel, we are working with smaller solar specialists around the world who are installing our solar films in a variety of projects.
What are the three biggest benefits of your films?
First, Heliatek's solar films are lightweight, weighing less than two kilograms per square meter. And they are bendable, with a bending radius up to 20 centimeters. This means they can be used on virtually any surface – even those unsuitable for normal solar panels. A wide variety of surfaces, whether vertical, horizontal, curved, rigid or textile-like, can thus be converted into power generators. An astonishing number of buildings have lightweight roofs that, for static reasons, are incapable of supporting normal solar panels.
And the other two reasons?
Second, Heliatek's solar films do not use scarce materials. They are perfectly suited for local production and are truly sustainable: we are very proud that TÜV has certified that our films have a carbon footprint of less than 10 grams of CO2 per kilowatt hour for most global locations. This is more than 50 times better than the CO2 footprint of the German grid mix and more than eight times better than that of normal, silicon based solar modules. Heliatek's films are an important part of a carbon-free world. Third, the films are easier to install than any other solar technologies thanks to their integrated backside adhesive. The films are simply glued to the substrate without the need for a substructure.
"The future must be built on sustainable solutions that do not require scarce raw materials."
Guido van Tartwijk, CEO of Heliatek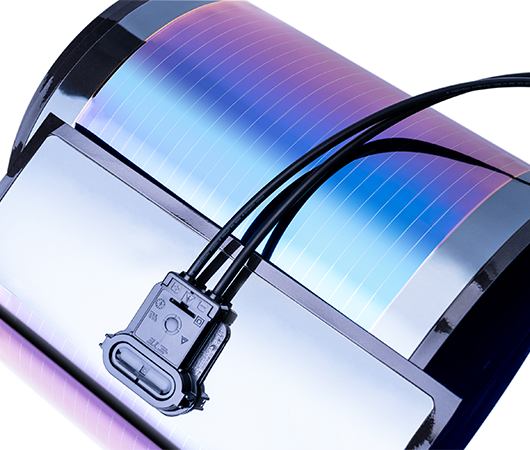 You openly say that one of the weak points of your films compared to conventional modules is efficiency. You are working on improving the efficiency. How far have you come with your efforts?
Conventional solar cells have been around for about 50 years, and their efficiency potential has now been almost exploited. Heliatek's organic solar technology is still at a relatively early stage of product development - with huge untapped potential. We are not working on purely laboratory records but are focusing on materials and processes that are suitable for mass production. Our mass-produced products already have efficiencies that enable our customers to create convincing business models.
What does that mean in concrete terms?
The efficiencies of normal solar modules are currently about twice as high as those of our films. However, we are targeting completely different fields of application in which conventional solar modules cannot be used. Our roadmap for mass production shows the way in which we can increase our efficiency further over the next five years. We are working on synthesizing new materials with better performance and bringing them to production readiness. Finally, a very significant advantage is that the efficiency of Heliatek's organic solar films does not degrade with increasing temperatures: The performance of normal solar modules decreases as the temperature rises. The output of Heliatek's solar films remains constant up to a temperature of around 90 degrees Celsius - which is roughly the temperature of Dubai's roofs in summer.
When did you personally join Heliatek and what has been your biggest achievement during that time?
I joined Heliatek in November 2018 with the goal of transitioning the company from research boutique mode to commercial operation. Our biggest successes so far are starting commercial operations with our mass production line, installing the first large-scale façade with commercial products from our new line, realizing our first installations in South Korea and Japan. The great public interest in our films, which is shown at various events, through a large number of media contributions or even awards that we could win, still impresses me every day and proves that we are working on something big.
What are your lighthouse projects worldwide?
The two largest installations in terms of area are on a school in La Rochelle in France and on an industrial facade in Berlin. Also spectacular are the 60-meter-high installation on a wind turbine tower in Spain, and on the bridge between two office buildings at the headquarters of a well-known electronics company in South Korea.
Who are your customers?
At this stage, most of our customers are commercial customers (B2B) who are retrofitting their buildings with our HeliaSol plug-and-play solution on the roofs and facades. The integration of our films into building elements is still at an early stage. Private customers often contact us to ask if we have a consumer-ready solution. We always refer them to our energy and utility partners.
Can homeowners also stick your film on their facades?
We are receiving many requests from individual homeowners who are asking if they can buy our modules to stick them to their garage, caravan, roof, etc. At this moment we cannot fulfill their requests as this is not a Do-It-Yourself product but instead requires a professional installer. Our strong advice is to contact your local energy company (see German comment) and ask for Heliatek, so they can plan and realize the concrete installation. For now we remain focused on serving our B2B customers.
How much do the films cost, especially compared to conventional modules?
The comparative value is really about the total cost for the end-user of the electricity generated by our films, taking into account the price of the module, installation costs, wiring and other electrical components. The installation cost of Heliatek films is very low compared to normal solar systems, craftsmen install about one square meter per minute. Moreover, no additional substructures are required to install our films. They are simply glued with the integrated backside adhesive. Total electricity costs are already less than 20 cents per kilowatt hour at many sites.
And how long do your films last?
Over 20 years. The service life is attested to by standard photovoltaic certifications that we receive through renowned external institutes such as TÜV.
In 2021, you were heavily affected by the Covid-19 pandemic. What are your goals for the next few years?
The pandemic slowed down commercial negotiations in Europe and Asia because it slowed down our suppliers, severely affected the ability of our employees to work at our sites in Dresden and Ulm. Now that we have COVID-19 much more under control, we have increased our production plans for 2022. With a gradual increase in production output, we want to get to over one million square meters in 2024. Increasing our production capacity is the company's biggest goal, along with continuously improving the efficiency of our products.
You actually wanted to break even in 2022. How long is that now delayed?
Due to the delays in deliveries from our equipment suppliers, not only for hardware but also massively for service and the lack of availability of our own staff, we have lost about a year in terms of output. Of course, we adjusted our spending accordingly during the pandemic and are now on track to break-even-point in the first half of 2024. The Ukraine war and resulting inflation is also affecting us.
The solar market is highly competitive worldwide, and you also have direct competitors in organic films. What are you doing better than your competitors?
Among the various companies offering organic solar films, Heliatek is the only one that can deliver durable and efficient products due to its patented organic materials: Our materials are the only ones in the organic photovoltaic industry that can be vacuum deposited, allowing precise deposition with nanometer precision on a substrate: All other organic materials can only be used in the so-called solution-based printing process. This gives Heliatek two fundamental advantages: Evaporation allows us to develop highly efficient multilayer stacks, while printing is only suitable for simpler (lower efficiency) devices. And vacuum processing is mandatory to obtain defect-free active layers, which are a prerequisite for long lifetime. There are also inorganic technologies targeting similar applications, but these all suffer from a strong negative temperature effect and show a drop in performance as air temperature rises. In addition, inorganic solutions have a carbon footprint approximately eight times worse than Heliatek films and are not suitable for the full range of applications we are targeting.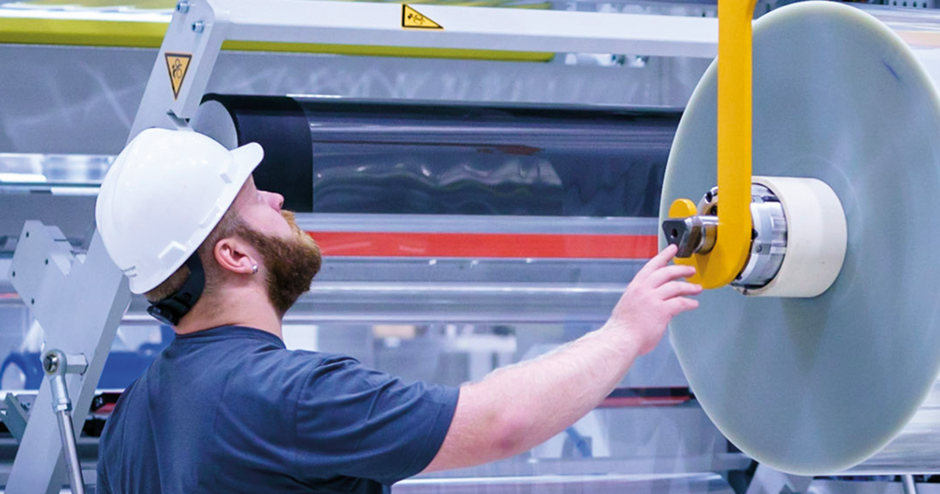 Experts believe that the solar market of the future will consist of many different systems and suppliers that will coexist and interact. What role do you see for yourself in this scenario?
We believe that the future must be built on truly green and fully sustainable solutions that do not require raw materials that are already in short supply today. Fully sustainable also means that the products have no negative impact on the environment at the end of their life cycle. Heliatek's solutions are perfectly suited to enable this future – and we expect to be part of regionalized ecosystems of companies offering complementary solutions, such as batteries, grid infrastructure or services.
Heliatek now has over 230 employees since its founding 16 years ago.
What was the most important decision made along the way from its founding to today?
Initially, Heliatek focused on inventing and developing the organic materials for organic solar films – assuming that over time other companies would develop the manufacturing capabilities. Our most important decision to date has been not to wait for others to develop the manufacturing infrastructure. Instead, we set ourselves the challenge of becoming a commercial organic solar module manufacturer and building a mass production facility.
What is your vision for 2030, what are the next steps for you?
In 2030, the whole world will be in the process of transforming its electricity infrastructure so that it is more decentralized, and each building generates enough electricity to meet its own needs, in a fully green and sustainable way. Heliatek will supply its high-efficiency green solar films globally from several regional manufacturing centers, each with multiple high-speed production lines serving regional distribution partners and sourcing its raw material from the local supply chain.
KfW Capital financed you through the Corona Matching Facility, among others. How has that helped you?
We are very grateful for KfW Capital's support, which was instrumental in securing our financing round, which was already in full swing when Covid-19 struck. Only through this tool were we able to secure our medium-term business plan. Without it, Heliatek would undoubtedly have been forced to drastically cut its spending and significantly delay the business plan.
Your investors include BASF, E.ON and BNP. What percentage market share do you want to achieve in Europe and worldwide?
Heliatek's history since its inception has been one of perseverance and long-termism, and we are fortunate to have investors who also have a long-term strategy. Through E.ON and ENGIE, we have access to a worldwide distribution network, which is certainly beneficial for our market launch, while our shareholder eCAPITAL has established itself as a reliable and professional partner with continuity in cooperation. As for the numbers: it is not easy to determine market shares for a market that is not accessible for normal solar installations and which we estimate to be astronomically large. For comparison, the total rooftop area inaccessible to normal solar installations in Tokyo is about 350 million square meters. By 2030, we aim to produce more than 20 million square meters annually worldwide. The only limitation to this is the construction of more factories - there is no limit by the market.
About Guido van Tartwijk, CEO of Heliatek
Guido van Tartwijk has been Chief Executive Officer (CEO) of Heliatek GmbH, the leading supplier of organic photovoltaic (OPV), since 2018. Born in the Netherlands in 1967, he holds PhD and MSc degrees in theoretical physics and has extensive experience in bringing disruptive innovations rapidly to mass markets in the lighting and semiconductors industries.
About KfW Capital
KfW Capital, KfW's wholly- owned investment subsidiary, invests in VC funds such as eCapital, which in turn finance innovative start-ups such as Heliatek. "In today's world, innovative approaches to alternative energy generation are of course of outstanding importance. We are therefore pleased to support VC funds like eCapital in financing companies developing sustainable technologies with viable visions through our investments," says Dr. Jörg Goschin, Managing Director of KfW Capital. Under the Corona Matching Facility, which is part of the Federal Government's Coronavirus aid, KfW Capital, through eCapital, also helped Heliatek to pursue its medium-term business plan during the pandemic.
Website: https://www.kfw.de/kfw.de-2.html
About eCapital
Dr Paul-Josef Patt, Managing Partner of VC fund eCapital: "We have been working successfully with KfW Capital in our funds for almost 20 years and value this cooperation very highly. The coronavirus pandemic was one of the biggest challenges that we and also many of our portfolio companies had to overcome - at least up to that point. The Corona Matching Facility has been instrumental in mitigating the impact of the pandemic and has also given Heliatek the chance to successfully develop further."
Website: https://ecapital.vc/