500 cumulative years of research experience
Heliatek was founded in 2006 based on research in the field of organic electronics at the TU Dresden and Ulm University. Our founders share an inspiring vision: To develop materials from natural and abundant sources (so-called organic materials) that can convert sun light into electricity. Our OPV technology is an inherently sustainable and highly scalable technology for a wide range of existing and new applications where conventional PV cannot be used. With over 500 cumulative years of relevant research and development, our teams in Ulm (Chemistry) and Dresden (Physics, Production and Product Development) continue to innovate and push the boundaries of this still relatively young technology. We are continuing our intensive research and development work with the founding universities and are maintaining close relationships with other European research institutions, such as the Fraunhofer Institute and the Leibnitz Institute.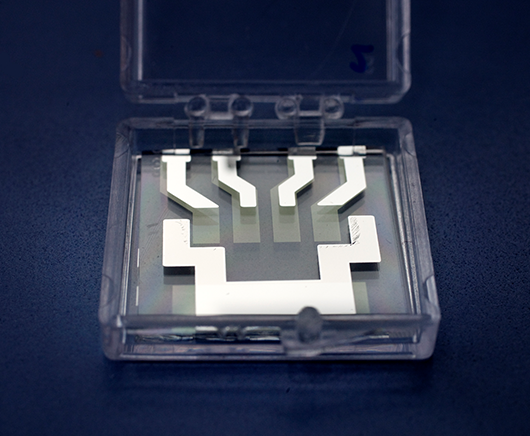 Heliatek has already set several records for efficiency. In 2016, we achieved an efficiency of 13.2% under laboratory conditions, which was the highest efficiency ever achieved by an organic solar cell at that time. We have set ourselves ambitious targets and have drawn up a clear roadmap to further increase the efficiency of our organic solar cells in the years ahead. Since 2016 we have focused our attention from establishing world records in a lab-environment towards realizing an efficient and fast "Lab-to-Fab" transfer.
We are constantly developing the materials used in our solar cells to enable the use of the largest possible solar spectrum for electricity generation. This will allow us to achieve higher levels of efficiency in the future. Our unique knowledge of organic chemistry will help us to further optimize the electricity generated by the active layer while minimizing losses in the surrounding protective layers. The existing potential has by far not been exploited, because unlike the dominant silicon technologies, we are still far from achieving the upper limit of efficiency, which is estimated for our organic stack to be above 40%.
Proprietary developed research production line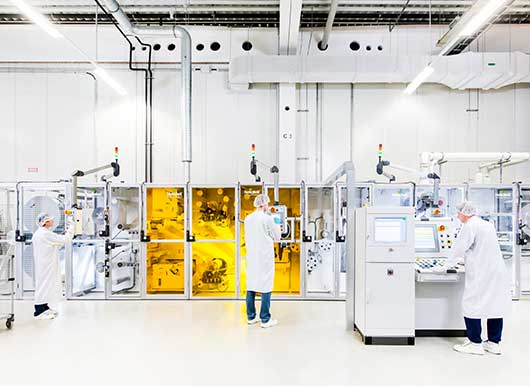 Heliatek has developed and built its own research production line, which was commissioned in 2012. Moreover, Heliatek has created its own development and testing facilities with extensive internal testing procedures and tools. In this way, a unique-to-the-world production process – thermal evaporation under vacuum in a roll-to-roll process was established and transferred to the current series production. According to the "Lab-to-Fab" transfer concept, we can test and further develop the latest research results in our research production line and then transfer these directly into series production. This efficient step is an important link between research and series production and helps us to transfer the latest findings efficiently into our series product.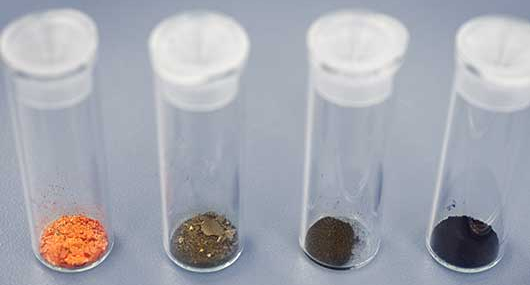 Heliatek is the globally recognized market leader in organic photovoltaics. Since its foundation, Heliatek has continuously expanded its know-how and protected it with more than 300 patents*. Patents include the protection of organic solar cells with our proprietary absorber molecules, as well as the special cell layout. In addition, we have patented important processes to protect the unique know-how of our production.
*Granted and pending patents
Development process for new materials and products
Organic photovoltaics offer us development opportunities to continuously improve our materials and products. However, any new material must go through several development steps before it finds the way into series production and thus into our product.