Funded project: TFE4OPV:
Research into technologies for efficient thin-film encapsulation of flexible electronic components
Funded by:
This project is funded by the European Union and the Free State of Saxony.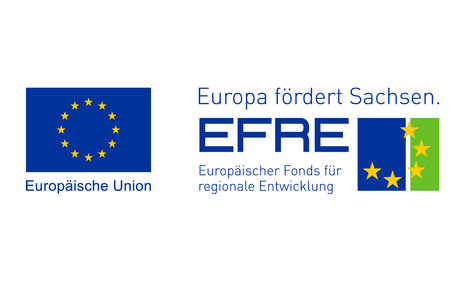 Project Description:
Organic photovoltaics is susceptible to ageing by water or oxygen. Accordingly, organic solar cells must be permanently protected against these two substances that occur in the environment. Decisive for this is the so-called permeability for water vapor, which must be <10-4 g/m²/d². According to the current state of the art, organic solar cells are encapsulated in a "Maultaschen" structure. This means that they are first produced on a conductive film and then packed gas-tight on both sides with two ultra-barrier encapsulation films.
Disadvantages of this current solution are the additional costs that such ultra-barrier films and the adhesion materials require. Therefore, the project aims to investigate a process chain with which organic solar cells can be encapsulated directly against environmental influences using thin-film technology. This should lead to significant cost savings, which will significantly increase the competitiveness of organic solar cells.
Alliance partner:
Heliatek is coordinator of the joint project and will also be the largest end user of the investigated processes. The Leibniz Institute for Polymer Research (Dresden), as well as the Dresden Fraunhofer Institutes FEP and IWS will provide the other expertise required.